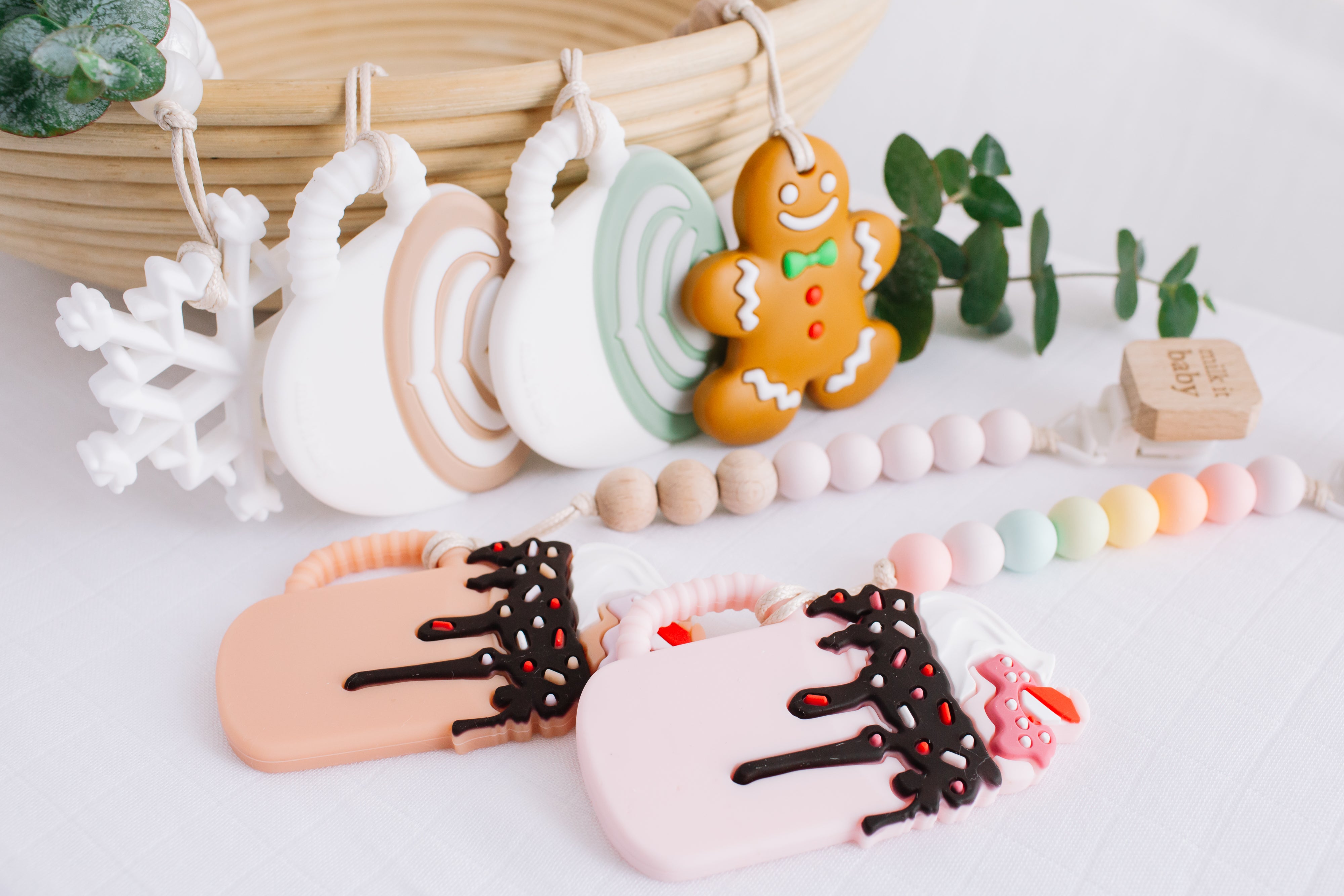 Tooth Fairy, Is That You?
As a parent, it's natural to wonder when and how your baby will hit those key milestones. If you're experiencing sleepless nights, dealing with your child's constant drooling and mood difficulties, chances are your kid is in their teething phase! That's right– brand new, pearly white teeth are on the way! But. It's. Painful. 
It's a journey, folks! Teething is a process that all parents wait anxiously for, yet dread, when it comes to their newborn's development. Sore and swollen gums paired with the constant crankiness! 
To make this development journey as smooth as possible, babies are often given teethers.  Who says tooth fairies only visit when your milk teeth are buried under the pillow? In our world mamas, the tooth fairy brings your baby a fun teether!
If you're wondering why you should invest in one, well you've knocked on the right door! Apart from the fact that babies look just adorable when chewing on it, there are in fact several benefits to using one. Let's fill you in.
Soothes gums | No pain, no gain!
Babies absolutely love putting things in their mouths! 
That's not news, is it? They chew, munch, bite into pretty much everything you can think of. I mean, if you had a penny for every time you removed something out of your kid's mouth…
Sadly, teething is one of the uncomfortable phases of life for babies. It is definitely a major milestone for their development, but the first few teeth will be painful. Your little ones have a higher urge to chew on things and will likely experience mood difficulties. Crankiness and irritability, sleepless nights, excessive drooling, sore and swollen gums are all part of the package! But hey, no pain, no gain, right? 
In order to make this phase as frustration-free as possible, we recommend using a good teether. Just like when we hurt ourselves, applying pressure on the sore area helps relieve some of the discomforts - a teether toy puts pressure on your baby's tender gums and allows them some comfort. 
Speech benefits | Word of Mouth
A lesser known fact is that using a teether toy can also aid in speech production. In fact at birth, the sensory system around the mouth is the most developed area which is why babies tend to be impulsive in nature and put just about anything they can find in their mouths. 
All that munching and chewing actually encourages your baby to move their tongue inside their mouth and in turn, strengthens their facial muscles. When chewing on a teether, the tongue moves from side to side, the jaw opens and closes and this movement helps them become aware of their mouth. 
These motions inherently provide a gateway for children to the sensory world and prepare their mouth for more complex tasks. This lays the foundation for learning speech sounds as babies begin to babble and attempt to make their first ever word, "mama", "dada"!
Now, that's a super cute camera-worthy moment, isn't it? Truly such a beautiful feeling when your baby calls you for the first time! 
Milk Teeth | You know the drill
If you think your baby's toothless smile is the definition of cute, just wait till the first few teeth kick in! 
The ultimate goal of the teething phase is just that — the emergence of new teeth, also known as milk teeth. A baby's primary 20 teeth are already present at birth and typically make an appearance when a child is between the ages of 6 months and 1 year. 
When teeth first come, babies might still experience sore or tender gums. Gently rubbing your child's gums with a cool teether is extremely soothing. Modern teethers have been creatively designed to soothe sore gums and offer your child maximum teething pleasure. They can even be stored in the refrigerator for a few hours before offering it to your baby for extra comfort!
Our very own Milk It Baby teethers are available in all kinds of trendy and fun designs, and also have an easy clip-on feature to prevent it from dropping! Check out Milk It Baby Trendy Teethers and some of our other personal favourites here:


Product Recommendations
Heart Teething Ring - Millie + Maya
Using 100% food grade silicone beads and beautiful beech wood hearts, Millie + Maya have created the most gorgeous Heart Teething ring, perfect for babies to gnaw on. 
What we love: We absolutely love that this teether acts as a sensory toy and promotes small babies fine motor skills by encouraging them to grasp and focus on the different colors and textures. The silicone beads help soothe sore gums and the chunky beech heart helps the milk teeth cut through! 
Special feature: This teether is available for personalisation! You can now customize your baby's teething ring with their name - how cute is that, mamas? Great to use and to gift. 
Rating: 9/10 
Shop this teether.
Hexagon Teether Bracelet - Petite + Co
Using beech wood and silicone beads, Petite + Co have created a stunning hexagon-shaped teether bracelet that will not only help soothe teething gums, but also entertain your little one! 
What we love:  We love that this hexagon-like teether comes in all different colors and acts as a perfect rattle-toy! 
Special feature: Its hexagon-shape is surely one to amuse your baby- and goes a long way in stimulating their understanding of shapes. 
Rating: 8/10 
Shop this teether.
Arc-en-ciel de dentition - Minika

Using 100% silicone beads and an easy-to-grab design, Minika has created the perfect rainbow teether rattle. 
What we love:  We love that it's such a natural easy-fit in your child's fingers and will soon replace all other rattle roys! 
Special feature: Well of course it has to be the rainbows! Such fun and vibrant colors - and can you imagine the idea of eating a rainbow? We love it!
Rating: 8/10 
Shop this teether. 
Baby Rainbow Teether - Mushie
Made from 100% non-toxic, food-grade silicone, Mushie Baby Rainbow teethers are safe for your baby to use—and their whimsical design and sophisticated colors make them a stylish addition to your child's toy set. 
What we love:  We love its simplistic, yet elegant look! Truly makes a statement. 
Rating: 7/10 
Shop this teether.
The next time your little one reaches for something to place in their mouths, ensure it's a teether and celebrate their milestone in a fun and safe way. 
New teeth or first words, we would love to see how it turns out! So be sure to snap some cute pictures and tag us on @milkitbaby.shop or #milkitbabyshop.
Need some more advice? We are here for you, mum & dads! Drop us a message on our Instagram or email us at hello@milkitbaby.shop - we'd love to chat.
Written by Shivani Kakkad