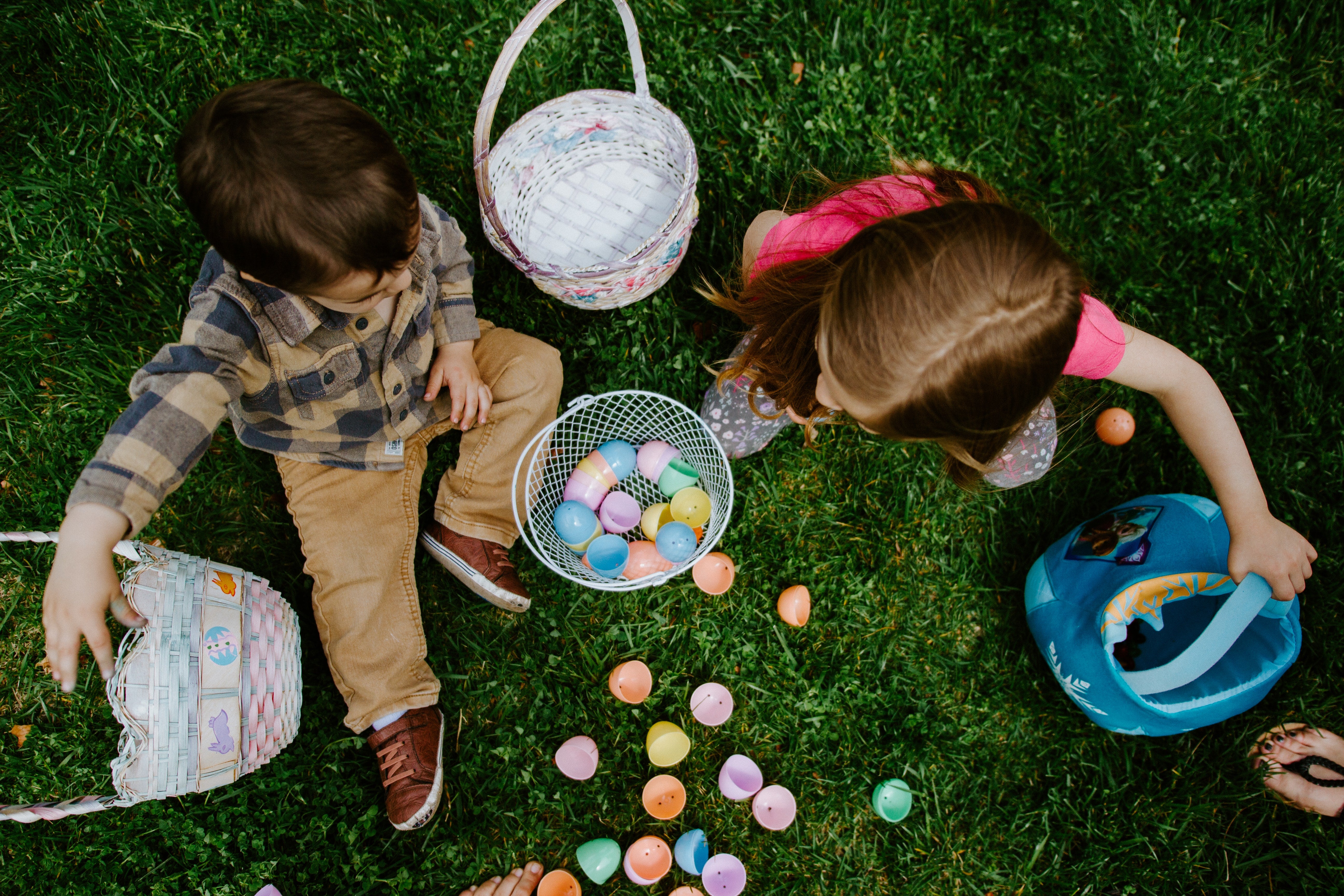 The Big Egg Theory
The Big Egg Theory
As the countdown to the spring holiday draws closer, we know so many of you have been hatching Easter plans! Getting out in the garden, basking in the sun, dancing with daffodils, hunting for Easter goodies … and oh, wait- what about the kids? 
With the little ones being home for Easter break, we have got an activity pack that will keep kids of all ages busy! Look no further for your Easter playdate ideas, mamas! 
Bunny Hop Sack Race | Just yolking around
Oh my, sack race! Brings back memories of those Sports Days at school, doesn't it? 
Turning a burlap sack into hours of Easter fun has never been easier!! Invite your little guests to "hop on over" for a Peter Rabbit themed Easter party! The first step is to sew on a little cotton ball on the burlap sacks to give it the extra bunny feel! If you want to go all out, it might be a fun idea to get cute bunny-ear headbands for each child. 
Well, then it's quite simple- set up each player with a sack decked out with a cute bunny tail and their bunny-ear headbands (optional) and host your hop-around-the-garden race!
There are so many ways to do this! The simplest is to set a start and finish line. Have all your little bunnies stand at the start line inside of their sacks, holding them with both hands at their waist. When the race begins, the kids must hop to the finish line while staying inside their sacks- and the first person to cross the finish line wins! For a modification, you can incorporate a little Easter egg hunt in between, make it a relay race or an obstacle race!
As long as they're yoking around, a bunny hop sack race isn't a bad idea is it?
Egg Smash Painting | It's egg-ceptional
Sounds … well, a little odd- but we assure you your babies will get such a kick out of it!! This one does require a tiny bit of preparation before the activity. All you need on your list is some paint (the more colours, the merrier), a carton of eggs, a blank canvas (or some large paper) and some mama supervision! 
The first thing to do is drain the eggs! Okay, so this is the gross part- but it may as well be a great source of entertainment for the kids. Using a push pin in a slow twisting motion, apply pressure to the top of the egg until it breaks through. You can then continue creating smaller holes (it gets a lot easier after the first attack) until you make an opening large enough to add paint. And hey, if you crack one by accident- that's completely okay, save it for breakfast. 
Once you've formed that hole, empty the sticky icky bits while your kids watch in amazement. After that, rinse them off and well … start filling 'em up with paint. Do a test throw to make sure the amount is enough. Well well, then we have a carton of colour-filled eggs, just dreaming of becoming art. 
Now the real fun begins. 

Stick that blank canvas or a large paper on an outdoor wall and get the kids to throw and smash those eggs! The results are actually pretty damn cool! You'll definitely get some new abstract art to display on that living room wall. We promise it's worth the trouble of cleaning up … and if you're feeling funky, why not join the babies and make a day out of it!
Egg & Spoon Race | Humpty Dumpty … sat on a spoon
Host an old-fashioned egg and spoon race! It brings such great outdoor fun for both kids and adults! It encourages you to enjoy running without realizing how much physical effort is exerted! A perfect activity for your family picnic! 
Don't worry- no real eggs are involved, now that might be a little too much fun with the kids! We recommend using plastic eggs on spoons to make it as mess-free as possible. The game is pretty standard- how fast can you run from the starting line to the finish line without dropping an egg that you're holding in a spoon?
This game can be divided easily into different age groups and abilities by altering the length of the race and modifying rules. Rules like if you drop the egg, you are out of the race or celebrate teamwork by making it a relay race with teams. Race with the spoon in hand or mouth? Have the kids think up their own rules! They love doing this, don't they?
This game can build so many skills- including hand-eye coordination, endurance, balance and of course, a sense of fair play! This outdoor activity teaches children patience, care, and coordination while exercising. It is a great learning game that will keep the whole family entertained for hours! 
We hope that these craft ideas help your child have some Easter fun and give you incredible moments to cherish for a lifetime. We would love to see how it turns out so be sure to snap some cute pictures and tag us on @milkitbaby.shop or #milkitbabyshop.
Need some more advice? We are here for you, mum & dads! Drop us a message on our Instagram or email us at hello@milkitbaby.shop - we'd love to chat.