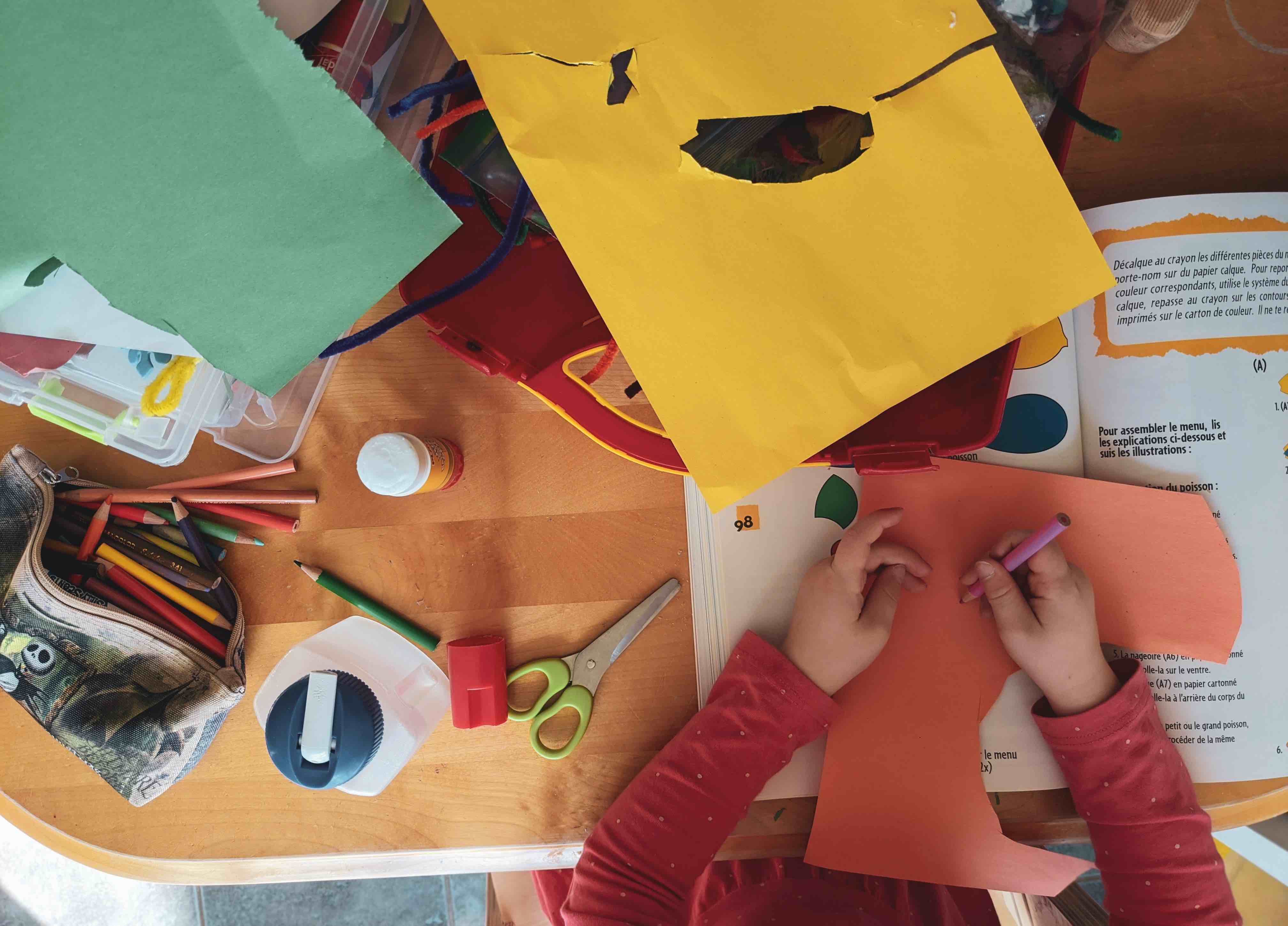 A cat's artwork is a paw-trait
When was the last time you went to an art museum? Oil-based paintings, stone sculptures and a portrait from the Renaissance. Seems like a faint memory. If you're a parent, however, you actually live in a constantly evolving art museum! Every time you have guests over, the walls appear a little more colorful. Blue, yellow, green, pink- all sorts of doodles flaunt themselves on your beautifully furnished walls! Yes- you you know exactly what we're talking about! Your personal doodle art museum!

Are you constantly irritated by your child doodling on the walls? Treating them as their personal art canvases? Well well, you knocked on the right door! Here are three incredibly amusing craft activities that will not only keep those little kittens away from your walls, but also develop their motor skills!
Playdough | I need you to knead it
Ah! Just reading that brings back some childhood memories, doesn't it?

Although seemingly simple, exploring with play dough makes a great activity for young children's development! Besides hours of countless fun, kids actually build strength in their little muscles when squishing, cutting, pinching, rolling and flattening the playdough. These actions collectively build their fine motor movement which proves beneficial in the future for skills such as holding a pencil or using scissors. Yes, this is where it all starts!!

"Go wild" in the baby dictionary indicates a thumbs-up for a mix and match of play dough colours. There's never enough innovations that a child can make using play dough. A flower, a duck, a three-story building, and heck- even an entire city can be created if your child sets their mind to it. Creating objects from scratch ensures that your child's imagination knows no bounds.

Most importantly, play dough activities promote a technology-free playtime. In a gadget dominant world, kids are instantly drawn to devices and it's important to balance this. A lot like the stress balls and fidget spinners we resort to, play dough is an instant stress buster and a great calming tool for kids.

We assure you, it's worth the trouble of cleaning up … and if you're feeling funky, why not join your baby and make a day out of it? 
Bubble Wrap Painting
Yup, you read it right!

At the tender age of six months, your baby may still be learning to walk on their two feet, but this doesn't stop them from creating art! No canvases or professional painting tools are required for this super cute paint activity! All we need is bubble wrap, some paints, a brush and voila … we have a creative painting surface for your little Michelangelo! All those spare bubble wrap lying around can finally come in handy.

Tie an apron on your baby and let them have their fun with paints! Don't worry if the brushes get dropped either- who can resist popping the bubbles? This may end up becoming a finger painting experience at some point as their little fingers squish and spread the paint! This exercise builds both finger strength and enhances your children's fine motor skills such as hand-eye coordination when they direct their fingers to pop the bubbles. This activity is also a form of sensory exploration and ensures the development of your child's sight, smell and touch.

A little warning though- you might not feel like getting the paint off your baby! Paint and cute faces, a deadly combination! To all the moms and dads who would like to get a snapshot before the colours get too mixed, be sure to press a piece of blank paper onto the bubble wrap and gently peel it off to reveal the print! We bet it will look great under a fridge magnet and if you manage to preserve it for long enough, will make a great birthday gift when your baby gets older!

Let's get popping!
Pasta Necklace | Pasta la vista, baby
Making a pasta necklace has been one of the most classic craft activities for kids of all ages! It's a tradition craft that has been passed down for many years.

For parents who are always on their toes, this is an easy favourite. Having your child create this pasta necklace while you prep your own pasta dinner is not only an efficient use of time but also family bonding in the kitchen. All they need for this wearable art is some pasta noodles, some food colouring or paint, string and a helping hand! You may have to encourage them to string each noodle and help them use a pair of scissors.

Making pasta necklaces is a brilliant and fun way to build fine motor skills by practising threading and would look super cute on little kids. For older ages, kids can experiment in several different ways by incorporating different knots and patterns. This in turn, is also a great link to maths play as all sorts of repeating patterns can be integrated into the necklace, especially with different colours. Rainbow necklace with a wide range of colours is a very popular choice among kids.

Make sure to try out this pasta-necklace activity and let your child experience the many wonders of experimenting with food and art! After all, to many of us, food is certainly art!

We hope that these craft ideas help your child develop their motor skills and give you fun moments to cherish for a lifetime. We would love to see how it turns out so be sure to snap some cute pictures and tag us on @milkitbaby.shop or #milkitbabyshop.

Need some more advice? We are here for you, mum & dads! Drop us a message on our Instagram or email us at hello@milkitbaby.shop - we'd love to chat.
Written by Shivani Kakkad